For those with a taste for adventure, raw beauty and of course, wine - our 3 day 'taster' in the heart of the Waikato is the experience for you.
Overview
Explore the Waikato by foot in the heart of the North Island and enjoy local flavours on our 3 day taster experience. Perfect for people who like small group hiking tours and enjoy sampling local produce. Our passionate outdoor guides start the tour with a gentle walk along the banks of a stream leading to the purest turquoise spring water of Te Waihou. Moving to a bit more of a challenge, hike to the rocky outcrop on Sanctuary Mountain (some true Kiwi-style tramping!), where the air is filled with bird song in a forest alive with some of our rarest native birds, thanks to a world-class conservation project on the mountain. Visit Australasia's largest organic blueberry farm and sample all sorts of blueberry delights and enjoy some really good New Zealand coffee.
Climb to the top of the tallest waterfall in the North Island and take in the views before we reward our efforts with a trip to the land of award-winning icecream. Taste the creamiest gelato made from premium jersey cow milk fed on lush Waikato pastures. Leave your hiking boots behind as we head to local fifth-generation, family owned and operated winery and sample multi-award winning wines.
Stay two nights at our charming country guesthouse enjoying homely kiwi meals prepared by our local hosts with love.
Notes:
- A minimum of 4 people are required for guaranteed departure of this tour
- Tours depart Sundays and return Tuesday
- Rates pp are double or twin share
If your preferred travel dates don't match our tour dates, get in touch and we will see what we can do - hello@natureandnosh.co.nz
Visit the crystal-clear waters of Te Waihou Blue Spring
Climb New Zealand's largest pest-free ecological sanctuary mountain.
Taste a trio of blueberry flavoured delights at organic blueberry farm.
Hike to the top of the tallest waterfall in the North Island.
Wine tasting at local award-winning winery.
Taste gelato made from full-cream jersey cow milk fed on lush local pastures
A variety of kiwi cuisine experiences, with wholesome home cooking by our local hosts - some even source fresh produce from their own gardens!
Stay in a charming country guesthouse with local hosts.
Small groups, maximum of 10
Carrying a small daypack only (your luggage will be transferred).
Day One: Sunday
10km (6.2 miles) / 3 hours walking (easy grade)
Your journey starts from either Auckland or Hamilton where our guide will collect you. South bound, we head for the famous Blue Springs of Putaruru, with water so pure and clear it supplies around 70% of New Zealand's bottled water. Now we are ready for our first walk of the tour along the banks of the pristine turquoise stream leading to Te Waihou. Our next stop is a boutique specialty cheese factory and deli where you have the opportunity to sample handcrafted cheeses, in a region known for its dairy farming. Gathering at our guesthouse at the base of Sanctuary mountain we take in the full profile of tomorrow's climb over a glass of wine. We guarantee you will be made to feel right at home with delicious cooking where you'll be treated to no less than a three-course meal. Get used to it, because you'll be eating like kings and queens for the next two nights!
Day Two: Monday
9km (5.5 miles) / 4-5 hours hiking (hard grade)
Wake to the dawn chorus of native birds singing their happy song thanks to the sanctuary sitting above us. Fuel up at breakfast before a short drive to begin our ascent to the rocky outcrop. Explore the functioning ecosystem on Sanctuary Mountain Maungatautari which is as close to the pre-human New Zealand environment as it's possible to find. A trip to Australasia's largest organic blueberry farm to sample all sorts of blueberry delights and enjoy some really good New Zealand coffee rewards our efforts, before some wine tasting rounds off the afternoon. We head back to relax on the deck or have a spa and wait for another delicious meal (if you can find room!).
Day Three: Tuesday
5km (3.7 miles) / 4 hours hiking (moderate grade)
Relish in a leisurely morning and home made breakfast before climbing to the top of the tallest waterfall in the North Island. Plunging 153m from the Kaimai range above, a well maintained track winds across bridges with lovely views of cascades, before reaching to our first view of the falls. From here we climb to the top of the falls for a breath-taking view over the valley and Waikato plains. To reward our efforts, we head to local creamery to taste handmade gelato made from full cream jersey cow milk fed on lush Waikato pastures before we take you back to Auckland with fond memories and a sweet taste in your mouth.
Note: This itinerary should be seen as a guide only and is subject to change at any time due to elements outside our control. We will always endeavour to stick as closely to this itinerary as possible to deliver the best experience to you. The above doesn't detail all 'Nosh' experiences in full as we like to keep some things a surprise!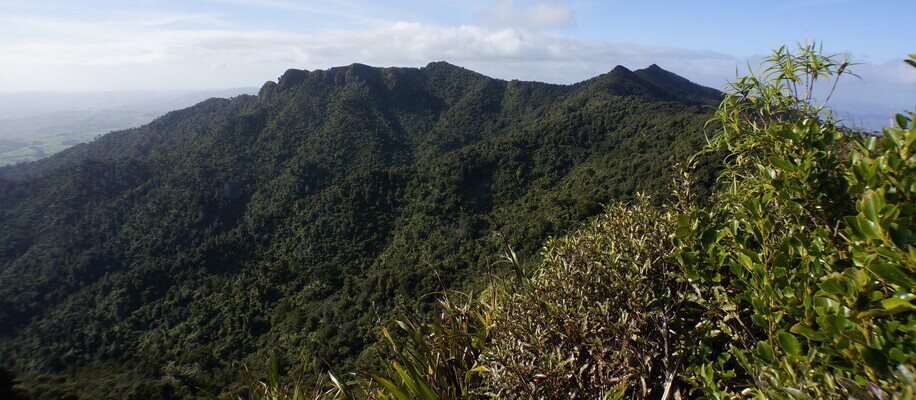 Inclusions
Return shuttle transfers from Auckland.

Comfortable and spacious transport with air conditioning.


Professional local guide and assistant guide with local knowledge and stories leading the way.

Charming and comfortable country guesthouse with local hosts.


ALL meals. Cooked and continental breakfast options, nutritious and uniquely Kiwi packed lunches, wholesome evening meals. (Sunday - lunch + dinner, Monday - breakfast, lunch, dinner, Tuesday - breakfast + lunch)

New Zealand wine for the table or a beer/non-alcoholic drink of choice with evening meals.
Delicious food experiences unique to Nature and Nosh Tours (our secret ingredient!).


First aid kits, safety equipment and all your fresh New Zealand drinking water.

Nature and Nosh insulated stainless steel drink bottle to use on tour and keep.
Nature and Nosh enamel mug for your hot drinks on tour and to keep.



What's not included
Airfares.
Personal hiking gear such as boots, clothing, poles and day packs. We do have some day packs and walking poles available for hire.
Travel insurance. We recommend all of our tour guests take out travel insurance.
Single supplement fee NZ $150 for single travellers wanting their own room.
Pick up / drop off
An Auckland or Hamilton collection/drop-off is included in this tour for the whole group.
Grading
Grade
Moderate to hard (with one easy walk on day 1).
Day one - 3 hours walking approx
Day two - 4-5 hours walking (600m / 2000ft elevation)
Day three - 4 hours walking (400m / 1300ft elevation)
Carrying a small day backpack for your personal gear such as water,
lunch and a rain jacket.

Track conditions
Track surfaces on our Heart of the North tour vary from well maintained paths through to more rugged terrain where you will be walking over tree roots, mud and rocks. Walkers need to be sure-footed, have a good level of fitness and a good sense of adventure. Our guides ensure that the pace is dictated by the group and allow plenty of time for short breaks for water, refreshments, photos and interesting stories on the way. For us, it's about the journey, not the destination. You will get the most out of this tour if you have a good level of fitness and some hiking experience.
Our Nature
We've carefully hand selected our combination of tracks throughout the Coromandel and heart of the North Island for their beauty, diversity of terrain and landscapes, flora, special features and conservation values. The programme of day walks on this tour is designed to have a mix of easier, medium and harder graded walks, with the walk grading varying over the tour, giving your legs a chance to recover in order to make the most of it. Some of our tracks are well-known and are too scenic to leave off our tours, others are so secret that not even the locals know about them!
Our Nosh
You will enjoy a variety of kiwi cuisine experiences including wholesome home cooking by our local hosts - some even source fresh produce from their own gardens! Breakfast is an option of cooked or continental to fuel you properly for your day of hiking. Lunches are freshly packed for you in the mornings and we have plenty of snacks for the journey. Evening meals always accompanied by a glass of wine, beer or non-alcoholic beverage of your choice. Our 'Nosh' experiences include a visit to an organic blueberry farm, tastings at an award-wining winery, cheese tasting and more.
Our Accomodation
We stay in a charming guesthouse, riverfront house or off-the-grid lodge on our Heart of the North taster tour - each tucked away in private and picturesque settings. All of our rooms have ensuites and single supplement is available for those travellers wanting their own rooms. When the weather permits, we have meals outside and take in the beautiful mountain and bush views. We have great relationships with our local hosts so you can be sure you'll be looked after the kiwi way!
Reviews
"Wow! I can't speak highly enough of both Kylie and Steve who hosted us for our trip.
They did an amazing job of giving varied outdoor experiences while introducing us to food treasures that have been on our doorstep for years and we never knew. I had some specific food needs during our time away and the team were very accomodating, making every effort to provide for me at each destination.
We had a memorable time and I am already trying to share some of our experiences with family members by taking them to some of my favourite spots.
Thanks so much Kylie and team!"
- Denise, NEW ZEALAND
Pristine coastlines, cascading waterfalls and rugged landscapes. A place where the manicured meets character. COASTAL CHARM - a uniquely Kiwi experience through the Coromandel.